USAF/DOD Fire Academy History
History of Lowry Air Force Base, Colorado
1934-1938:
The Denver Chamber of Commerce petitions Congress to locate the Air Corps Tech School in Denver. Sanitarium is converted and donated to the federal government.
1938:
First troops arrive in Denver. Denver branch of the Air Corps Tech School becomes Lowry field.
In 1993 it was announced that Lowry AFB, at the east edge of the City of Denver, Colorado, would be closed as part of cost reduction measures being taken by the US military. Lowry AFBclosed on 01 October 1994. On 12 April 1993 the Air Staff approved moving small missile maintenance training from Lowry AFB to Vandenberg AFB, California, where it would be consolidated with large missile maintenance training.
The Air Reserve Personnel Center is an active-duty FOA located on the grounds of the former Lowry Air Force Base in Denver. Its workforce is charged with providing essential services and administration for the nearly half million women and men of the Air Reserve components in support of the Air Force mission. The center also maintains the master personnel records of all Air National Guard and Air Force Reserve members. The Defense Finance Accounting Service - Denver Center (DFAS-DE) is located on Lowry Air Force Base (AFB).
Lowry Air Force Base has been an integral part of the history of the US Air Force and the city of Denver for over 60 years. The base was named after Denver native, US Army Lt. Francis B. Lowry, who was killed in action during World War I. Lowry was an observer in an aircraft that was shot down over enemy lines near Crepion, France on September, 1918. Lowry Field was originally located near East 38th Avenue and Dahlia Street. This airfield hosted both US Army Air Corp and Colorado (Air) National Guard units. This site is now occupied by Park Hill Municipal Golf Course.
In 1937, President Roosevelt authorized funds to relocate Lowry field to its final site near East 6th Avenue and Quebec Street. The base started its training mission in earnest the following year. World War II caused Lowry to greatly expand it facilities in order to train bomber aircrews along with a large number of other technical specialists.
After the war, Lowry continued to train technicians for all branches of the US military. On June 7, 1951, Lowry's 3415th Technical Training Wing formed a Guided Missiles Department. It taught courses in guidance, control, and propulsion for such systems as Matador, Falcon, Rascal, Snark, and Navaho. By 1962, the Department of Missile Training was providing the Air Force with over 1,000 trained missile specialists per year.
From 1953 to 1955, Lowry became President Dwight D. Eisenhower's "Summer White House" from which he conducted affairs of state while Mamie Eisenhower, a Denver native, visited with family. 1953 also turned Lowry into a movie star with the filming of The Glenn Miller Story starring Jimmy Stewart, June Allyson, and Harry Morgan. Several scenes were shot in and around the hangar that now houses the Museum. In 1955, the United States Air Force Academy was established at Lowry AFB pending construction of its facilities in Colorado Springs. On 11 July 1955 the first class (of 306 cadets) was sworn in at the Air Force Academy's temporary location at Lowry AFB. The USAFA remained in operation at Lowry from 1955 to 1958.
Due to the close proximity of the residential area around Lowry and the increase in the number of high performance jet aircraft accidents at the base, flight operations at Lowry ceased in 1966. In 1976 the US Air Force Accounting and Finance Center moved from its old location near East 40th Avenue and York Street to newly built facilites at the southwest corner of the base.
April 1991:
Lowry closure announced.
February 1992:
Lowry economic recovery project is established by cities of Denver and Aurora.
November 1993:
Community Reuse Plan submitted to the Air Force.
August 1994:
Lowry Redevelopment Authority (LRA) formed.
September 1994: Lowry Air Force Base Closes
History of Greenville Air Force Base, Mississippi
<![if !vml]>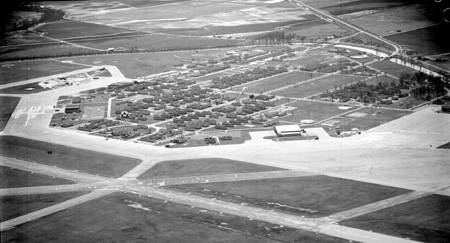 <![endif]>Built in 1942, Mid-Delta regional Airport (MDRA) started life as an Army Air Corps training field. After World War II, the base was closed. Activated again during the Korean War, the base reopened as Greenville Air Force Base. Although under a different name, the mission was the same, pilot training. Greenville Air Force Base remained opened until 1965 when the base was closed and given to the City of Greenville.
History of Chanute Air Force Base, Illinois
Chanute Air Force Base is located on the southern edge of Rantoul (Champaign County), Illinois. The main Base is comprised of 2125 acres. The primary <![if !vml]>
<![endif]>mission of the AFB was to provide military and technical training for Air Force officers, airmen, and civilian employees, and for other Department of Defense agency personnel. Training activities focused on operation and maintenance of military aircraft and ground support equipment.
<![if !supportEmptyParas]> <![endif]>
Chanute Field (640 acres) was constructed, initially serving as a pilot training facility and a storage depot for aircraft engines and paint in 1917. From 1922 through 1938, Chanute served as a training school for all Air Corps mechanics. The Air Corps Technical Training Command was initially headquartered at Chanute in 1941. Technical training operations during World War II included aircraft maintenance, weather observation, life support, and metal processing.
<![if !supportEmptyParas]> <![endif]>
Following World War II, Chanute continued to serve as a training installation for aerospace and weapon system support personnel under a variety of organizational titles. The installation was designated in 1959, the Chanute Technical Training Center, which was later designated the 3330th Technical Training Wing. In July 1971, military flight operations were terminated at Chanute, and it became a non-flying training Base. All military operations ceased in September 1993, and the facility became available for other uses, including civilian and commercial. The Air Force Base Conversion Agency (AFBCA) currently oversees all Base closure and conversion activities, in conjunction with the Illinois EPA and U.S. EPA.
<![if !supportEmptyParas]> <![endif]>
History of Goodfellow Air Force Base, Texas
<![if !supportEmptyParas]> <![endif]>
San Angelo Field was designated as a site for United States Army Air Corps pilot training on June 21, 1940. The base, located in Tom Green County two miles southwest of San Angelo, opened in August 1940 as the home of the San Angelo Air Corps Basic Flying Training School. On May 27, 1941, the facility was renamed Goodfellow Field in honor of a former San Angelo resident and native of Fort Worth, John J. Goodfellow, Jr., who was killed while serving with the Twenty-fourth Aero Squadron in France during World War I.  The first class of aviation cadets arrived for basic flight training in BT-13 aircraft in January 1941. Members of the Women's Air Force Service Pilots began duty in June 1943. In September 1945 the mission was changed to primary flight training. The base was deactivated in May 1947.
Goodfellow Field was reopened in December 1947 as Goodfellow Air Force Base, a basic pilot-training school of the newly independent United States Air Force. In June 1954 the base mission was changed to multi-engine flight training in B-25 twin-engine Mitchell light bombers. Secretary of the Air Force Donald A. Quarles announced in February 1956 that Goodfellow had been designated a permanent military installation. The flight-training mission at San Angelo came to an end on September 3, 1958, with the graduation of the last pilot class. Almost 20,000 officers and cadets had been trained at the Texas base. On October 1, 1958, under control of the United States Air Force Security Service, Goodfellow became the location of a school to provide cryptologic training to students from all four United States military services. Although the mission remained the same, Goodfellow Air Force Base was returned to the Air Training Command on July 1, 1978. Following several threats during the 1970s to deactivate the San Angelo installation, the base was removed from the closure list in 1981 and assigned an additional mission as part of the phased-array radar-warning system, a nationwide network of radar protection against sea-launched ballistic missiles. The actual site of the weapons system, one of only four such systems in the continental United States, was to be a 130-acre tract in the northeast part of Schleicher County, south of San Angelo.
In 1985 the base was designated a technical training center. During the next three years the training center brought to Goodfellow advanced imagery training from Offutt Air Force Base, Nebraska, electronic intelligence-operations training from Keesler Air Force Base, Mississippi, and targeting-intelligence applications and general-intelligence training from Lowry Air Force Base, Colorado. In July 1993 the Seventeenth Training Wing was activated at Goodfellow. The Seventeenth has a long history of combat operations going back to World War I.  In World War II, the Seventeenth conducted the "Doolittle Raid" on Tokyo, Japan. Under the designation Seventeenth Bombardment Wing it participated in the Korean War. During the Vietnam period the wing conducted B-52 refueling. After being redesignated the Seventeenth Reconnaissance Wing in October 1982, it operated TR-1 high-altitude reconnaissance aircraft during Desert Shield and Desert Storm on the Persian Gulf. The wing was deactivated in 1991, then was reactivated as the training wing at Goodfellow, after which it provided cryptologic and general-intelligence training for air force, army, navy, and marine personnel as well as students from Allied countries. In the early 1990s the growing base was undergoing extensive modernization. Under construction were new training facilities, dormitories, dining halls, a youth center and new physical fitness center. As the base entered its second half-century it was one of the most modern installations of the United States Air Force.
<![if !supportEmptyParas]> <![endif]>
<![if !supportEmptyParas]> <![endif]>